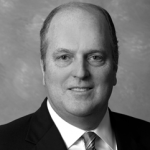 Craig M. Kaiser
Partner
Office: 713- 955-2742
Email: ckaiser@phillipskaiser.com
After clicking button: To save, right click and "Save Link as…"
Craig has 30 years experience counseling executives at public and private companies in industries including technology, manufacturing, logistics, energy services, technology, and medical devices. In addition to serving on the firm Management Committee and as Managing Partner, Houston office of Phillips & Reiter, Craig's legal career includes serving as Managing Director for Outsourced Legal Services at Morae Legal, Associate General Counsel of Compaq Computer Corporation, serving on the management team of the General Counsel, as well as those of the Senior Vice President of Supply Chain Management and the Senior Vice President of Consumer Products in a multi-billion dollar organization. Craig began his career as an Associate in the Commercial Litigation Group at the law firm of Bracewell.
During his career, Craig has represented clients in a wide range of industries on a variety of corporate transactional and commercial negotiations, ranging from complex licensing, development and sales transactions to purchasing and logistics agreements, to asset and equity purchase and sale agreements. Craig has advised clients on compliance with a broad range of applicable laws and regulations, including working through legal requirements internationally. His experience managing corporate governance matters includes all interactions with the Board of Directors and implementing policies and procedures.
Craig has experience addressing employment issues, including hiring and firing matters and in establishing compensation and benefits structures for both executive and non-executive employees. He has developed employee policies and handbooks and conducted training on a range of compliance issues to meet specific needs. His work includes assisting clients in resolving disputes outside of litigation. He has assisted clients in developing and analyzing their overall business strategies and creating processes to address day-to-day issues efficiently.
Craig has spent a career providing legal service in close alignment with his clients, both in development of strategy and execution of daily legal matters. He is a quick study of business models and how the legal function can add value there.
Craig is happily married with three children. Craig enjoys biking, running and swimming for exercise and is an avid sports fan.
Education and Activities:
B.A., Baylor University, 1983.
J.D., Baylor University, 1986.
Oasis for Orphans, child sponsor, fundraiser, and traveled to Kenya for three mission projects.
Yellowstone Academy, child mentor.
Tallowood Baptist Church, member and teacher.